Wire deck dividers are a new product on the market manufactured by Wireway Husky. The dividers can be mounted the depth or the length of the shelf and can be mounted by a spring in clip or hang from the above deck.
The dividers can be used to separate products or be used as a back/front stop. All dividers are custom made so the length and heights suit each individuals needs.
The dividers are versatile enough that you could create a custom order picking bin built into your racks instead of buying expensive collasible wire baskets or you could create vertical cubbies for blue print tube storage and pipe storage.
The wire deck dividers can also act as a division for aisle shelves so that products on one side of the shelf doesn't fall or get pushed onto the other side.
With Fire codes requiring wire decks over wood decks, these divider will give users more ways to customize their systems and provide a more efficient means of storage.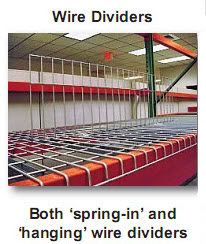 You can visit our direct product page at:
Pallet Jack Stop and Wedge Link